This article sets out to explain what conditions are necessary to grow Koji and how to generate these conditions. An article on the time frame of growing Koji will follow soon. 
What always irked me about instructions on how to grow Koji (and how to make miso) is that they always explained it in a step-by-step way, rather than explaining what the essential factors are in the whole undertaking. I.e. the instructions said "use hot water bottles", "use x amount of towels on which to let the rice cool", "set up a bowl of water in the incubation box" etc. but not what the purpose of those actions was.
So, here I will try to summarize what Koji likes, because there are many ways to generate the necessary conditions.
What Koji needs
Pretty much every instruction says that Koji needs temperatures between roughly 28°C and 36°C (and they are right, of course). If the temperature is around 40°C the fungus starts producing spores earlier, which is not wanted almost all of the time). If the temperature is even higher the fungus will die.
Koji will produce more amylases at higher temperatures, and more proteases at lower temperature. So, depending on whether you make sake or miso you can adjust. For the beginning don't worry about it so long as you are within 28°C and 36°C.
Koji also needs a high relative humidity. In the beginning, the first 24h, 90% are desirable. It's no catastrophe if it's 80%, or even 70%, but it certainly works better at 90%.
Some people say that after 24h it is better to lower humidity again, so that the fungus has to burrow deep into the grain in order to find water. If the air is always very humid the fungus can just happily grow on the outside without actually growing much into the kernel. I think there's truth to that, but I am undecided on how much this is going to affect the amount of enzymes that are produced, which is the whole point. This is an experiment waiting to happen. :)
The Substrate
Many foods can be used as a substrate for Koji. Usually people use rice, barley or soy. If I write "rice" in the following paragraphs it also applies for all other substrates.
The rice should be:
Not too wet

This is why in all instructions it is heavily recommended that the rice is steamed, after it had been soaking for 12 hours (Barley should soak for 2-4 hours.)
Some even recommend keeping the rice in a sieve for 2 hours prior to steaming, to get rid of as much water as possible.

In a pressure cooker steaming takes about 20 minutes from the point at which it reached full pressure. In a normal pot it takes about 40 minutes.

For steaming, a piece of cloth is very helpful to keep everything together.

After steaming, the rice/barley should be spread on a layer of dry cloth or just on a clean table in order to cool down and dry. A lot of moisture will steam off and some will soak into the cloth.
Steamed rice will seem strangely dry, don't worry, it is supposed to be like that. When eating it, it will seem a bit gummy.

Why it should not be too wet: If your rice is too wet you are making it hard for Koji to grow, and easy for bacteria (mostly Bacillus) to grow. You will notice as there won't be much, if any, mycelium visible. Instead there will be a smell of ammonia. To get the water content of your rice perfectly right, you have to steam your rice. Cooking it will not work.

Dehulled/polished:

The rice should be white, not brown rice. Same goes for barley, it should be pearled barley, if the hull is still there the fungus can't penetrate the kernel and nothing will happen.
Some people do grow Koji on natural rice, but they sprout the rice first. Anyway, if you grow Koji for the first time it is strongly recommended to do so on white rice or pearled barley as they are much easier to work with.
So this is pretty much it. The substrate part is pretty clear, so now let's talk about the many ways to provide for heat and humidity.
How to provide for it needs
There are as many solutions as there are people making Koji.
Solutions without special equipment
At the most basic, some people use hot water bottles and towels to provide warmth for their Koji, changing them when necessary. Personally that'd be a bit too much of a hassle for me as I like to sleep at night. If you go by that route, there are very helpful thermometers with probes out there that can sound an alarm once temperature goes below or above a certain threshold – this might be helpful with other devices too.
A variation on the hot water bottle theme would be to put canisters/pots with hot water in an insulated box. An insulated box could be everything from one made of carton wrapped with blankets to special thermoboxes.
I am always in favour of using solutions that don't require (too many) extra purchases. However, if you feel positive that it is going to be a lasting hobby, why not spend a bit of money on it. Or maybe you already have one or more of the following devices:
Solutions with "special" equipment
I have heard people have good experiences with bread proofers, which makes sense because sourdough/yeast like the same temperatures as Koji. By the same token I think there are bread baking devices out there which are meant to do every step of the baking process – if they are tweaked to do just the proofing they might be a good solution too for small batches of Koji.
Another device that seems perfect is an incubation box for chicken eggs. Somebody in one of the miso groups on Facebook talked about it, and it struck me as quite genius, since these boxes (well, the better ones I suppose) not only regulate temperature but also humidity. They can be cheap too – starting from 50€ and you are good to go.
I am sure there are plenty other options out there as well. Stuff that is used for terrariums or aquariums may be very helpful. Heating blankets may be an option too. One person I know makes perfect Koji just with a heating blanket. Ceramic heaters can be used to heat the air in a box. I have used a hair dryer for that purpose too, and it worked quite well! (It just was a bit loud every now and then)
Obviously, for some of these heat sources you will need a temperature regulating device. I use an Inkbird ITC-1000, which works quite well. It comes with a temperature probe, which I usually put directly into the rice. This is better than just regulating the temperature in the box, as the Koji will produce its own heat after some time. For this reason, after the first day, usually no heating is required anymore!
Be creative with your solutions, but make sure to stay safe. My first Koji box was made with floor heating wire, and I think it was not a safe option as the insulation of the wire once melted. Making Koji is fun, burning down your home is not!
Providing humidity
A simple way to provide humidity is to just spray the insides with water every now and then. You can also spray the cloth you are growing the Koji in (as in the photo below, in the tray section).  Probably much better to try this before spending money on a solution that works maybe marginally better than another.
Many people just put a baking tray with water over their heating element. Usually humidity will go up to 70% with that method – which is OK. It helps to put hot water in the tray in the beginning to raise humidity beyond that.
The super fancy solution, however, would be to use a humidifier. These devices are made specifically for humidifying air – perfect. Ultrasonic humidifiers work best. There are devices out there that will switch the humidifier on or off depending on relative humidity – usually they have a temperature controlling option too. The WH8040 is said to be good – it just regulates humidity, however.
I'm sure there are other solutions for humidity out there as well. If you have access to a professional kitchen you might hit the jackpot and there might be an oven that is able to regulate temperature and humidity at levels required for making Koji.
Cory Hughart commented on this article that there is another really easy way to regulate humidity. If you are using an unperforated stainless steel tray (preferably a deep one) as they are common in commercial kitchens, you can put your Koji in the tray and cover it with plastic wrap. Put some holes into the wrap so that your Koji still gets some oxygen. I would also advise to still use a piece of cloth between the tray and your Koji, so that no water is going to pool in the bottom of your tray. More on that in the next section.
Trays for Koji
One thing that really changed the quality of my Koji was the switch from a baking tray to one made of wood. The baking tray obviously didn't soak up excess water, so the lower layer of rice sometimes got a bit soggy – not good.
I strongly recommend to incubate Koji in a wooden tray. Not only because of sogginess issues, but also because the wood will help regulate the humidity in your box. However, if you don't have a wooden tray and it's not easy for you to make one, you can still get some cloth and put two layers of thin cloth or one layer of thick cloth on the bottom of your baking tray or pyrex dish.
(edit March 2019: In the meanwhile, I tried perforated stainless steel trays in conjunction with thick cloth, and it worked quite well too – the key here is to avoid any pooling of water/moisture)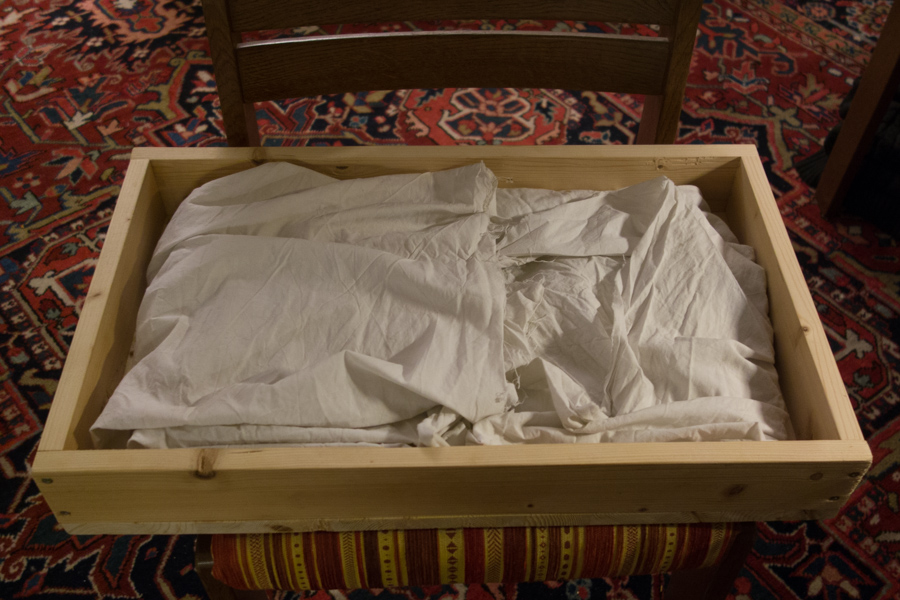 Traditionally in Japan, cedar wood is used for trays and Koji boxes (the boxes, sometimes even rooms, are called "Muro" there). Here in Austria, cedar is hard to get and expensive. In my opinion it's probably best to use woods that are used in building saunas. So the obvious choice is spruce. It's cheap and widely available.
Usually trays are made without metal, just with wooden joints. I was a bit lazy with mine and used screws. I don't see a downside, except that my tray looks less fancy than it could.
Examples of Koji boxes (aka "muros")
My first setup
Here is was using a dehydrator with a temperature control device. This is not because I think a dehydrator is inherently better, it's just that I already had one. I put it in a cabinet as shown below.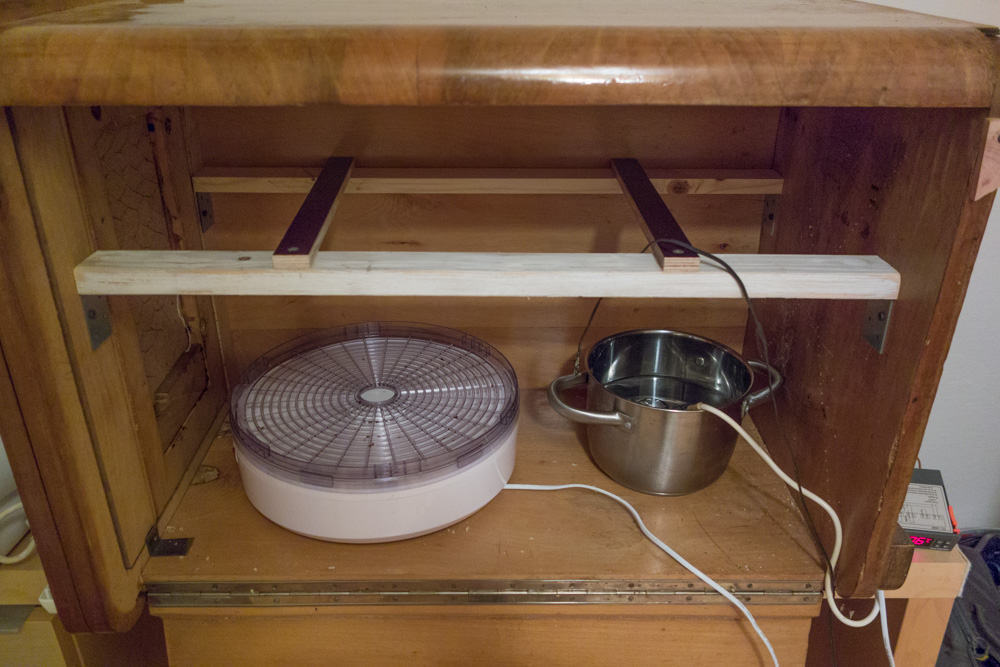 This is basically an old re-purposed sewing cabinet. The wooden tray with the rice goes on top the wooden rails (more on that later). The pot you see on the right is filled with water and I put an immersion heater in it, it is there to heighten the relative humidity of the air.
Way on the right next to the box you see the ITC-1000, which regulates the temperature. It has a probe attached to it which I always place in the middle of the koji. So depending on the temperature of the Koji, it switches the electricity of the dehydrator and the immersion heater on or off.
It is set to heat when temps fall below 30°C, and to stop heating when they are above 30.5°C. I found it's better to have a small range of temperature, because the temperature of the Koji will lag behind and the heating phase will result not in a rise of 0.5°C, but closer to 3 or 4°C, but that's OK.
The next setup
After the sewing cabinet I moved on to a new box, as the veneer of the cabinet started to peel off and the thing got quite gross… so I built myself a box from spruce stock and spruce boards.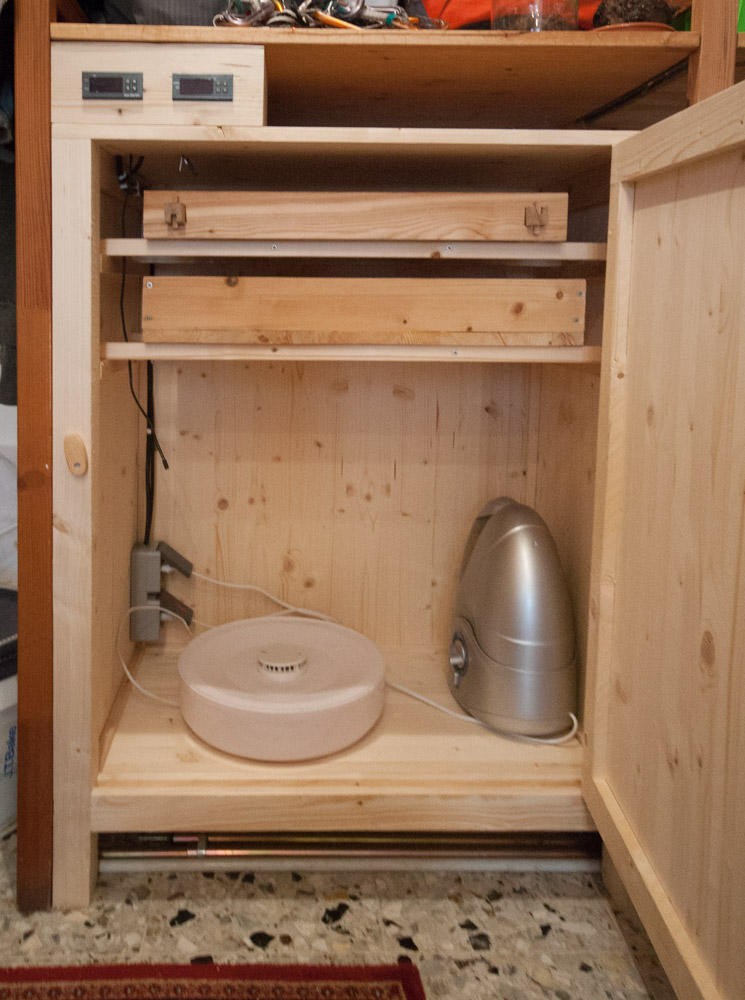 You can see there are two controllers, one for temperature and one for humidity. The silver thing you see on the bottom right is an ultrasonic humidifier. On the left is the dehydrator. Meanwhile I started to use a hairdryer instead of the dehydrator, as it is small, powerful and made to resist high levels of relative humidity.
The controllers switch the devices on or off, depending on the need of the moment. The temperature probe can be put into the rice, while the probe for humidity is always at the top.
Growing the Koji
Begin by diluting the spores.
Once the rice/barley/etc. has cooled down to about 35-40°C you can spread the spores with a sieve over your grains. Mix the grains well, so that the spores are distributed well.
Line your tray with a piece of cloth and then put your grains into the tray. Keep everything at the desired temperature and humidity for 24h (you can moisten the cloth a bit by spraying some water onto it, but don't make it too wet). I usually put the thermostat probe into the rice, to ensure that the grains have the right temperature.
After 24h I stir the rice the first time. This helps to better distribute the Koji and also to stimulate it to penetrate deeper into the kernels. If you want fancy looking mats don't stir the rice again after this point. For better penetration of Koji into the kernels it is better to stir every 4 hours or so.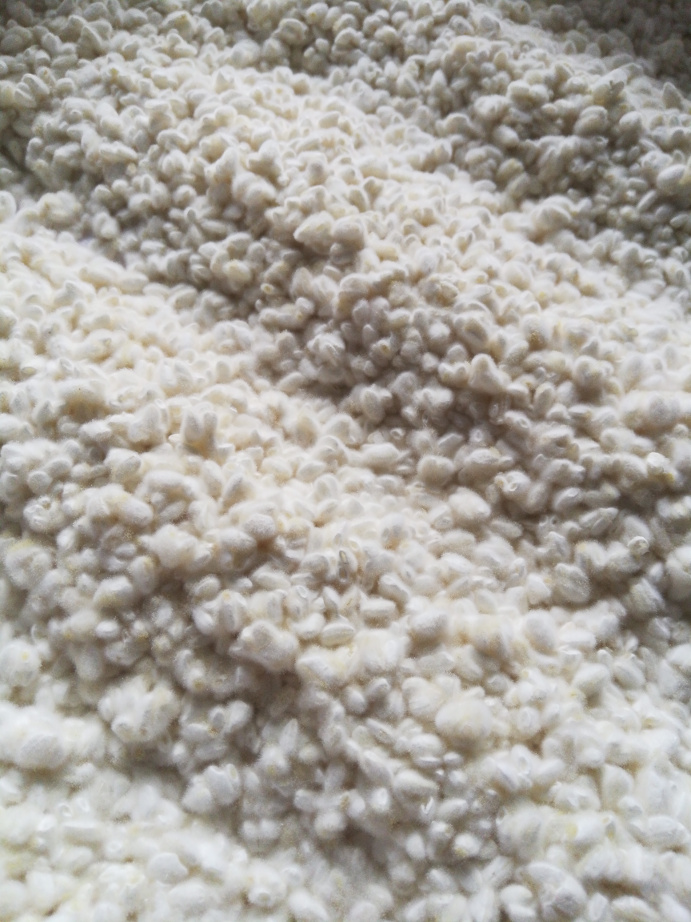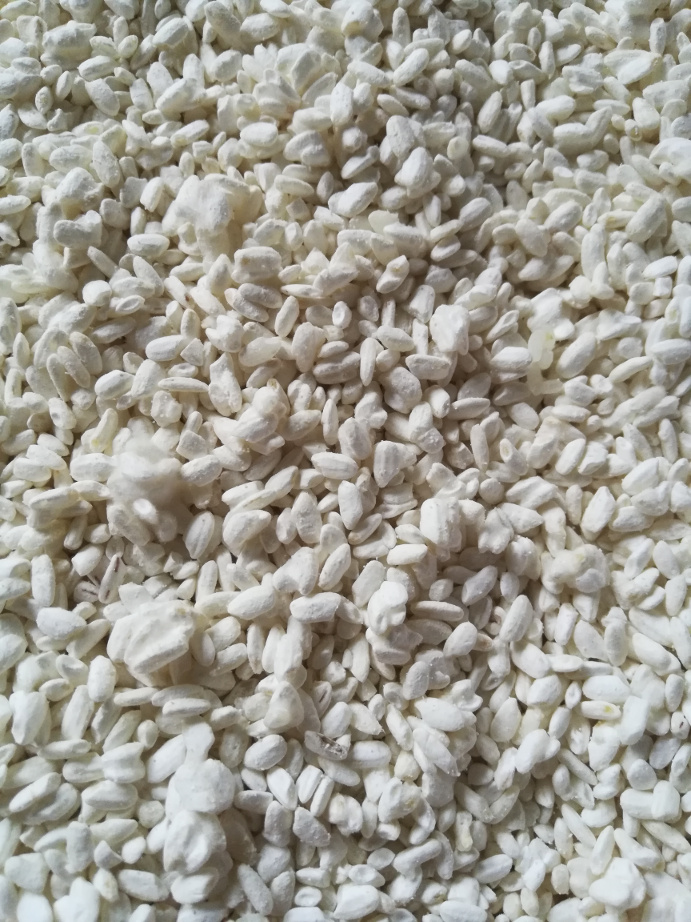 When is the Koji ready to use?
The time it takes for your Koji to be ready depends on the type of grain you are fermenting, and also on the strain of Koji you are using. Red rice Koji is ready after 40 hours, in my experience. Barley Koji can take 50 hours or longer.
In any case, if you see that your Koji is producing yellowish green spots, it is starting to produce spores. I recommend stopping the fermentation immediately by cooling the grains either in your fridge or outside if it's cold enough. Be aware that the Koji may still be producing its own heat, so spread it out. I once just put the tray  into my room to stop the fermentation and after a few hours I came back to some really green Koji.
Heavily sporulated Koji tastes quite bad. It has a strong off-taste and if you make miso with it, the miso will discolor when it gets into contact with oxygen. It does not look good. Don't worry if there are some yellow/green spots. It only gets problematic if everything is really green.
So the best moment to stop the fermentation is just before it starts to sporulate. I understand it is not so easy to tell when that moment is. It's best to check your Koji quite often, especially when you make the first few times. With experience you will get a good intuition of when your Koji is ready.
Thanks for reading! If you have any critique, input or questions, please let me know!