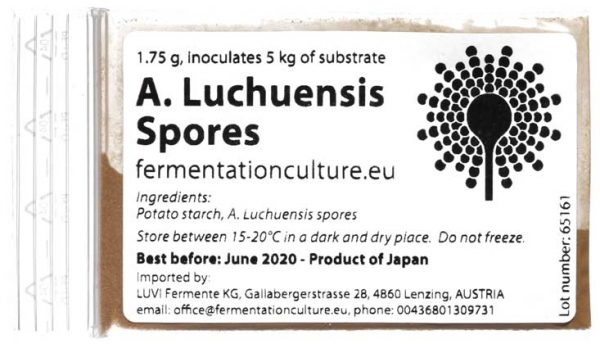 A. Luchuensis Spores
9,50€ incl. VAT (8,64€ excl. VAT)
Out of stock
A. Luchuensis, like Black Koji, is a special type of Koji which is traditionally used for making Shochu, a distilled drink.
This kind of Koji has gotten a lot of attention since it has been praised so much in the Noma Guide to Fermentation. To quote from the book: "[…] its flavor is remarkable, reminiscent of green apple and lemons. We were thrilled at Noma when we came across this special mold, because the citric acid it produces brings a sharp layer of contrast to the umami-rich flavor of koji."
When you grow this Koji, please be aware that it can be overpowered by its more famous cousin, A. Oryzae. For this reason I recommend that you use trays/cloths that you have not used with A. Oryzae before (or clean/sterilize your equipment well) in order to avoid cross-contamination.
1.75 g of spores per bag. This is for 5 kg of substrate. It grows best on barley. Be aware that it prefers slightly lower temperatures than normal Koji. That is: 28°C instead of 30°C.
---